The Mob's Press Exclusive Interview with Sprout Wise & City Shamans Founder: Joshua Doerksen — Part 1
Leadership is found in many places, often by individuals who are inspiring others and driving innovation behind the scenes. If you haven't heard of Joshua Doerksen, you are about to discover what talent and leadership looks like in the music and media industry. A man of many hidden abilities, Joshua is a multi-faceted artist and creative entrepreneur who is reshaping the way music and media content is made. He sat down with Mobster Curtis Morgan to give us a glimpse into the world of art business
Curtis Morgan: Hey thanks for doing this Josh, let's dive right in. Tell me about Sprout Wise.
Joshua Doerksen: No problem, man. So initially I started Sprout Wise as a media marketing company for artists. As an artist, myself, I had, personally, gone through the processes of recording and producing my own full-length record, getting online and retail distribution and putting together a marketing campaign that not only included sending it out to radio stations and getting the album on Spotify and iTunes. I was seeing that this process was something that a lot of artists struggled with and I thought maybe this could be a really great need to fill; create a company that supports developing artists by helping them out with content creation, the marketing of their music, and helping to get them some exposure. That's how the company started.
I found a professional studio recording space up in Barrie, Ontario and I began working out of there, producing bands, helping artists with their songwriting, helping them book shows, managing them and doing their creative marketing campaigns. Eventually, what ended up happening is that businesses started to really like the creative, unconventional approach that Sprout Wise had, so they started to hire us to create content for them and to create their marketing strategy. What initially started as just an audio/video production company to create content for artists has grown into sort of a full digital marketing agency that does radio jingles, web campaigns, print advertising, and all sorts of things like that. It's been a really amazing journey over the last five years to see the company grow and expand into new business markets while still maintaining its vision to support emerging artists.
CM: That's amazing. I actually got to feature one of the groups that came out of this venture you've started here: The Noolands. Talk to us a little about them.
JD: The Noolands are a band that was started by a couple friends of mine. They initially came to me saying, "Hey listen, we've got this idea for a band. We want to co-write with different artists in the community." What ended up happening was that a couple of guys got together and it was very apparent that there was a lot of chemistry and that the writing was really great, so I said to the guys, "Just come into the studio, let me record a single for you, and we'll just sort of see where that goes. We need to get one of your songs recorded, so, at least, you'll have something." So we recorded a single live off the floor, super quick time, really simple, and what ended up happening is this community really embraced it, and they fell in love with the song and the band.
Within only a six month period, that group had written about a full-length album's worth of new material and it was great, so I got really excited as a producer, and I said, "Guys, I gotta get you in again, and let's do this properly." So we ended up recording their debut EP, "Generation Why" in Unity Market Cafe & Studios in Barrie, ON. We put that all together. I created a strategic plan with them, helped them get the CDs pressed, helped them get it distributed online and on all of the major outlets, Spotify and everything like that. I really was just helping guide their marketing vision.
Fast forward a year and a half later, I've been helping these guys book shows and really just enjoyed mentoring them as they've grown a fan base, and started to tour around Ontario and really just built their band's presence online and on social media. One of the things that I really love about these guys is that they've maintained the vision that they just wanted to write music for their best friends. These are really talented, smart guys who take their music career seriously, but are really focused on just having fun and not taking themselves too seriously, and it think that really comes across in all of their social media content. At the end of the day, they just want their personalities to shine and they want to write music for people just like them.
CM: That's one of the things I really liked about them. By doing something like staying original and making, what they say is, music for their friends, they actually end up appealing to everyone. If you really break it down, the core idea of any band is to make music that people like, but they kind of take it to the next level saying, "No, we're making music for our friends," and it turns out that their friends are just like you and me. So when you hear the song and you like it, you start feeling like, maybe we're friends, we're all friends, and it's a really smart concept that isn't much of a concept at all, it's just a very simple idea that works, and I really appreciate that.
Let's switch gears for a second and talk about you. You have been doing shows and recording as City Shamans for the last few years. Where are you at with that now? What's next?
JD: City Shamans was always a collaborative project title, and what I mean by that, is that the goal with City Shamans was to explore world, tribal, and electronic music as a fusion — fusing those genres together and collaborating with different artists within those genres. The idea was that City Shamans would become a collective of artists who co-write music and record and release singles or projects underneath that name, and sort of cross-pollinate. So what ended up happening was that I started exploring using different tones and textures of world instruments with electronic synthesizers and looping and that sort of stuff. I was touring around summer music festivals and really just creating a bunch of recordings of different types of tribal electronic music. Some of that was on the more meditative, massage, yoga, relaxation type sounds — very ambient and soothing. And then on the flip side, a lot of that was your aggressive world electronic summer music festival stuff that you can really dance to.
[soundcloud url="https://api.soundcloud.com/tracks/316990758″ params="color=ff5500&auto_play=false&hide_related=false&show_comments=true&show_user=true&show_reposts=false" width="100%" height="166″ iframe="true" /]
One of the things that was a great launching platform for City Shamans was the Conscious Dance Party Community in Toronto, which is essentially a series of sober events where people go to advocate a healthy eating, wellness lifestyle and essentially sober partying and so it's a beautiful event of expression through dance. That was really where we found our market and I've collaborated with a number of types of artists that do traditional aboriginal chanting and drum music to singing bowls to throat singing and different things like that. So that collective has been an awesome exploration into what I think is a unique genre.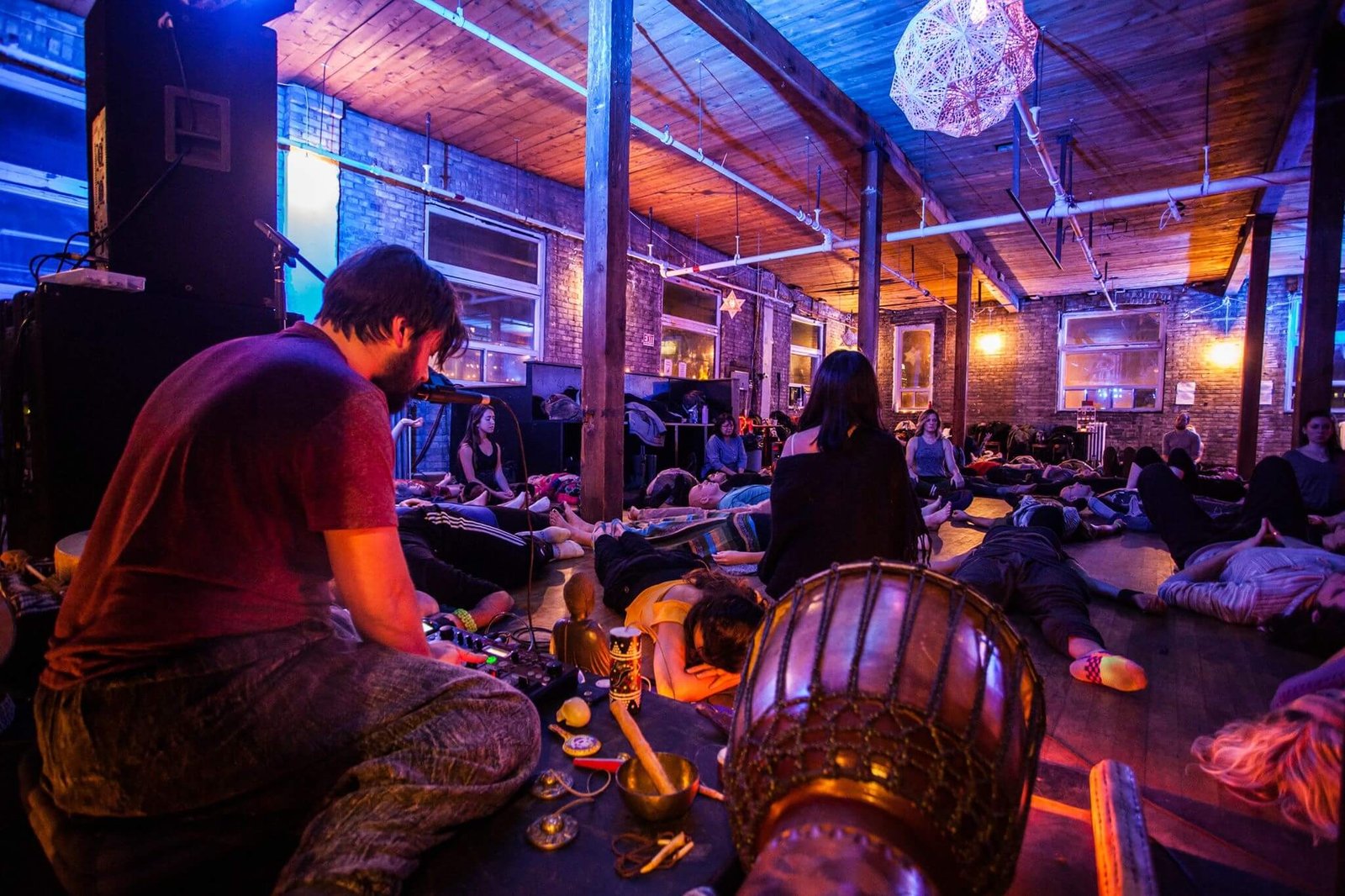 Stay tuned for part two of our chat with Joshua Doerksen where he will touch on what drives him, what inspires him, and his mission to bring back 80's 64-bit video game music back in a major way.
Also, if you want to see more of the talent that he is bringing you through Sprout Wise, they have a Spotlight Series, which is a live off the floor video series that showcases Ontario artists performing their original music! It can be found on Facebook or YouTube. They've already recorded over 30 artists this year!