Childish Gambino – This Is America Tour Review – Toronto – Sep. 10, 2018
Every few times a generation, a star goes supernova.  In the 80's, it was Michael, Madonna, Whitney, Elton, Prince.  In the 90's —  Janet, Lauryn, Eminem, Tupac, Mariah.  In the 2000s — Beyonce, Justin, Usher, Jay-Z.  In the 2010s — Gaga, Taylor, Drake, Kendrick, Adele, Kanye.  Just a few each decade.  The rest are contenders, but they fail to find that one earth-shaking moment that clearly marks a before, …and an after.  Moonwalk live on National TV for the first time ever.  Miseducation.  Confessions.  College Dropout.  From artist to icon.
Very few can pinpoint a moment in their career where everything changed.  It's a dream had by many, a seemingly impossible moment in a star's life where they become a true embodiment of the craft that they have been born for.  It is the Holy Grail of celebrity.  Practically impossible to achieve.  But hey,..
…This is America.
Enter Donald.
It has been years (dare I say, at least a decade), since a music video generated as much buzz as Childish Gambino's, This Is America.  It is a video that, simultaneously, spoke to the controversial hypocrisy that is America on many levels, galvanized Childish's fanbase, and launched an 18-city arena tour that sold out seconds after it went on sale, even though there was no album, no additional singles, and virtually no promotion at the time.
Donald was having a great year.  He was so successful at everything he put his mind to, that some people (most notably, Cardi B) had no idea that the Donald Glover who started as a writer for NBC hit show, 30 Rock, then landed a role on the Fox sit-com Community (which ran for six seasons), and then went on to write, direct and produce FX flagship runaway hit show, Atlanta, which is certified Emmy fodder (5 wins, 15 nominations in 2 seasons), and then took over the iconic role of Lando Calrissian in the Star Wars universe, is the very same person that also won his first Grammy and received 6 nominations under his pseudonym, Childish Gambino, at the same time he was doing all of that.
Like I said, Donald was having a great run.  The only misstep is one he took on stage in Dallas halfway through the This Is America Tour.  As a result the tour has been postponed, but lucky for you, Toronto was the 3rd stop on the tour and we were there.
From the second the show opens, Childish has total command of his domain.  Adorned in the same attire from the This Is America video (which consists of greyish slacks — only), he assumes the role of a Nubian, mandingo warrior from the streets of the inner city, Abraham Lincoln-esque emancipator of enslaved minds (no-matter-what-the-colour, no-matter-what-form-of-slavery), insanely sane, genius/thug.  Another creation.  Another role, or perhaps just another aspect of Donald.  One not even close to the earliest iteration of Childish Gambino, who brought us a debut album that, to me, remains his best body of work, Camp.  He is light years from that version; so much so, that he, much to my chagrin, didn't perform one song from the album that announced his arrival as a cunning linguist to the world of Hip-Hop.
But I digress.  This Is America doesn't have any guns or gun talk, no bling, no visible band, no pyrotechnics, very few dancer sightings.  It has Donald Glover as Childish Gambino… and a spectacular audio/visual feast for the eyes and ears.  The electronic component of the show is incredibly creative.  You will see things done with lights that you may have never seen before.  There were elements that reminded me of the creativity of Kanye West's best outing, the Glow In The Dark Tour.
In terms of Childish, himself, unlike Kanye, he worked that stage like he needed the money for tuition.  He kept his energy up throughout the entire show.  He didn't waste time with silly crowd interactions, other than to remind us to put our camera phones down and be in the moment with him.  We didn't.  He knew we came there for the music, for the release, for the experience.
He performed from his last 2 albums, and blessed us with five new singles (Algorhythm, Summertime Magic, Feels Like Summer, Spirits & This Is America) from what one can only assume is an upcoming release.  He took us all on a tour of his vast mind that operates in a way that you believe seems to be completely random (like his unique, sporadic dance moves that include signature facial contortions and eye-bulging), but then there are moments when you get it:  this randomness that we are witnessing is completely planned out — choreographed even, …then you hear a "pop", only to realize your own mind has just been blown.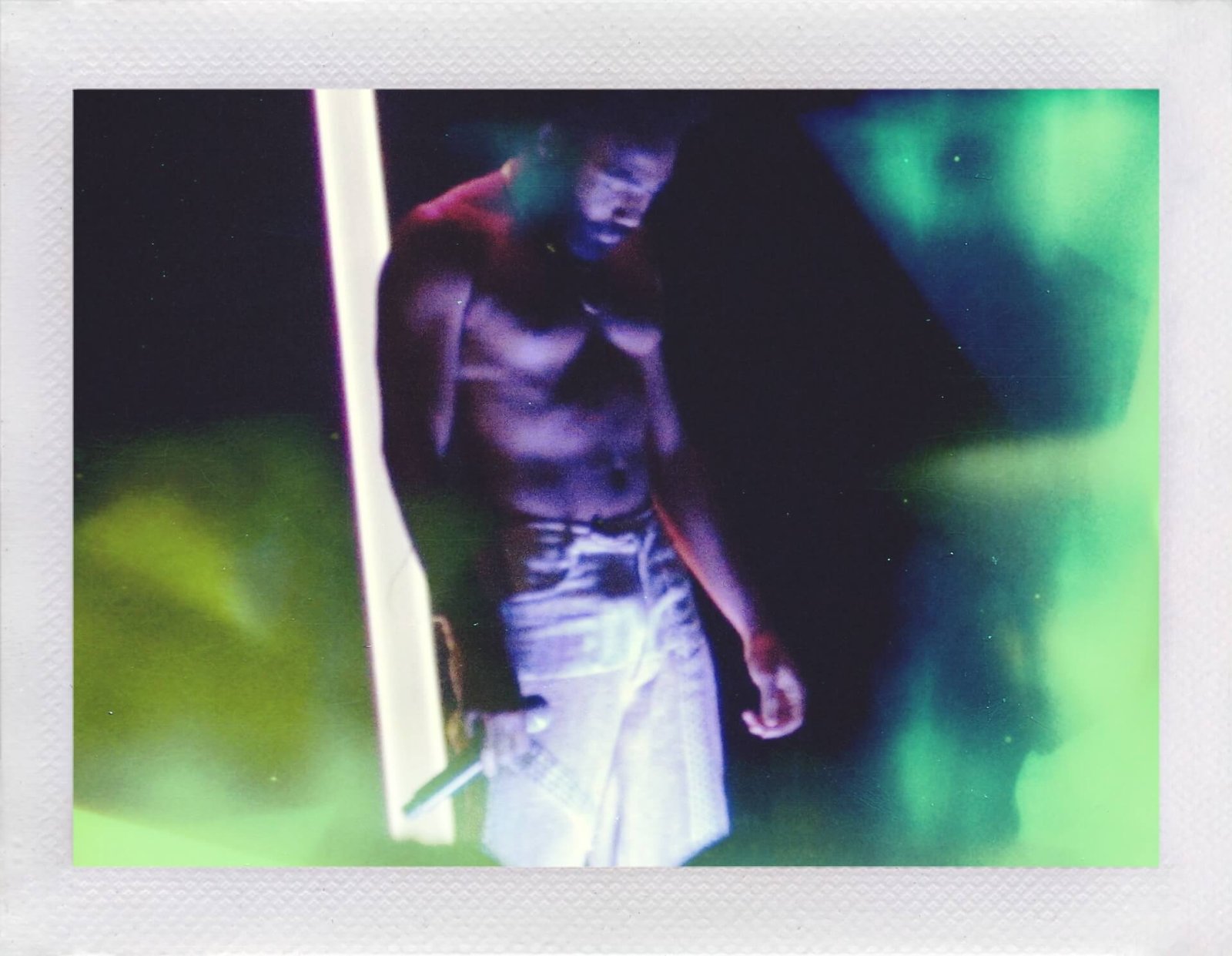 There's nothing random about this guy.  Earlier in his career, he said he would do three Childish Gambino records, become one of the biggest rappers of all time, and then quit.  To go from writer, to sit-com star, to grammy-nominated rapper, to content creator, to movie star, to iconic and well-respected entertainer on all of those formats in not even 10 years is absolutely astonishing (it took Will Smith about the same time, but he never achieved the level of respect in music that Childish has).  It can't all be luck.  As he predicted most of this, it is more likely that he is actually, just that talented, and he knew it.  He tried to tell us.  We slept on him in the early years.  He's not mad.  But he is in slay-mode.  There will be no survivors.
He has us.  Almost all of us that are within the range of his art.  He is aware that he has transcended from artist to icon.  The This Is America video made that official.  This is, as stated by him, the LAST Childish Gambino Tour.  One gets the feeling that, in regards to his art, he is light years away in thinking than the rest of us, and we may never catch up.  One thing he knows though, that he most likely learned from the icons before him, is that, if the art stays fresh and enlightening, we will never stop trying to.
If you are within range of one of the 18 cities, and you have your tickets to the second leg of his tour (now postponed) count yourself one of the chosen.  In this show, Childish takes you to the streets, to church, to Africa, to the night club, to outer space, and to the deepest depths of your own soul.  This Is America is for the world.  Don't miss it, if you can help it.
For more exclusive photos and video clips (including the bonafide new smash hit singles, "Algorhythm" & "This Is America"), follow @Curmor on Insta.