Toronto's Josh Saytok Say Talk Podcast

There are a few special moments in the comedy business when you come across raw talent looking for a place to happen.
Really good comedy is fearless, off-color, and downright irreverent to acceptable political culture.
I first met Josh Saytok in Toronto about 10 years ago. At the time he was hosting teenage party events at a local underground space in Toronto's Leaside neighborhood, the last bastion of whiteness in the otherwise beautiful cultural metropolis that makes up the six.
My first impression of him was a razor sharp Jewish kid with a colorful backstory. He had an infectious charm and carried a posse of local teenagers who over the years attended grad parties, sweet sixteens and bar mitzva's at the venue where he was an event host and manager.
They grew up in the bubble of parent funded neighborhood parties. Often you'd see them barfing at the curb, with tears streaming down their face from some boy drama.. all the things a good teenage life is made of.
When you meet someone in life who is bursting with a natural need to perform, who always seems switched on, and delivers a laugh a minute even in casual conversation… sit up, pay attention and remember their name.
Great comedians like Jim Carrey, Robin Williams and Will Ferrell are unstoppably self entertaining and they invite us on their ride of joy, silliness, and sometimes thought- provoking humor with the right dose of self-effacing humility.
As performing artists, they've created characters that will last forever… there's a series of common traits among them, and I think Josh Saytok has the goods. With a bit of money behind him and some guidance as an upcoming and developing artist I believe he's got the potential to arrive in a big way, so I am taking the time to introduce him to you, to open some doors.
If Canadian comedy was as well developed as Quebec and the USA, this guy would already have been discovered, produced and monetized. He'd be driving Lamborghini and living in a house up on the Bridal Path next to Bieber and Drake. It's a sad fact that in Canada we consume most of our comedy culture from the USA, and this needs to change.
Home grown acts like Rick Mercer, Martin Short, Willian Shatner and Howie Mandel are the fluke, not the pattern.
Here at The Mobs Press, we're quite vocal about this issue and have helped start many initiatives to combat the problem including CASC, CANFRAN, CANCON & Red Fedora Productions.
So, back to Josh and the SayTalk podcast.
Last week, I ran into him for the first time after the Covid lockdown. "So Josh, what have you been up to?"… I asked.
"I started a podcast and I've done over 50 episodes!"… He drops on me..
Naturally we did the link exchange thing, I grabbed his URL and we kept chatting and drinking pints, talking and catching up on shit.
Now I am not a podcast guy, and don't claim to be, so take my 'industry review' with a grain of salt.
In general, I don't have a lot of free mental time to listen to banter and nonsense about topics that roam aimlessly around the mind-fuck that is today's opinion economy
But – since I've always had this impression of Josh as a bit of a 'comedy live wire' and knowing he's done a few stand-up comedy shows within our network, and he's been a very successful local event host and MC – I set aside a couple of hours, pulled up the Say Talk Podcast and went in…deep.
Before you click the podcast links provided below, I'll warn you first;
The podcast's disclaimer is totally appropriate; "*TRIGGER WARNING* If you are easily offended this show is not for you. Lots of s**t talking. We make jokes too. Some are funny and some aren't. "
That said, If you're a fan of JFL's Nasty Show ie. not easily offended, and you're happy to hear uncensored and raw comedy, the Say Talk podcast have fifty-plus episodes for you!
I'll give it to you like Josh sent it to me. Here's a couple of 'listen to these first' below to add to your podcast playlist.
Like I said, I'm not typically a podcast guy but I am re-thinking that now.
If you like irreverent and off color bro-humor, Say Talk will give you an ear full.
Go get offended, stop taking life so seriously and support this Canadian comedian.

Spend some time with Josh Saytok and the 'Say Talk Podcast'.
If you like it, share it with your friends.
I am glad I did. It's totally hilarious.
… And remember the name Josh Saytok!
---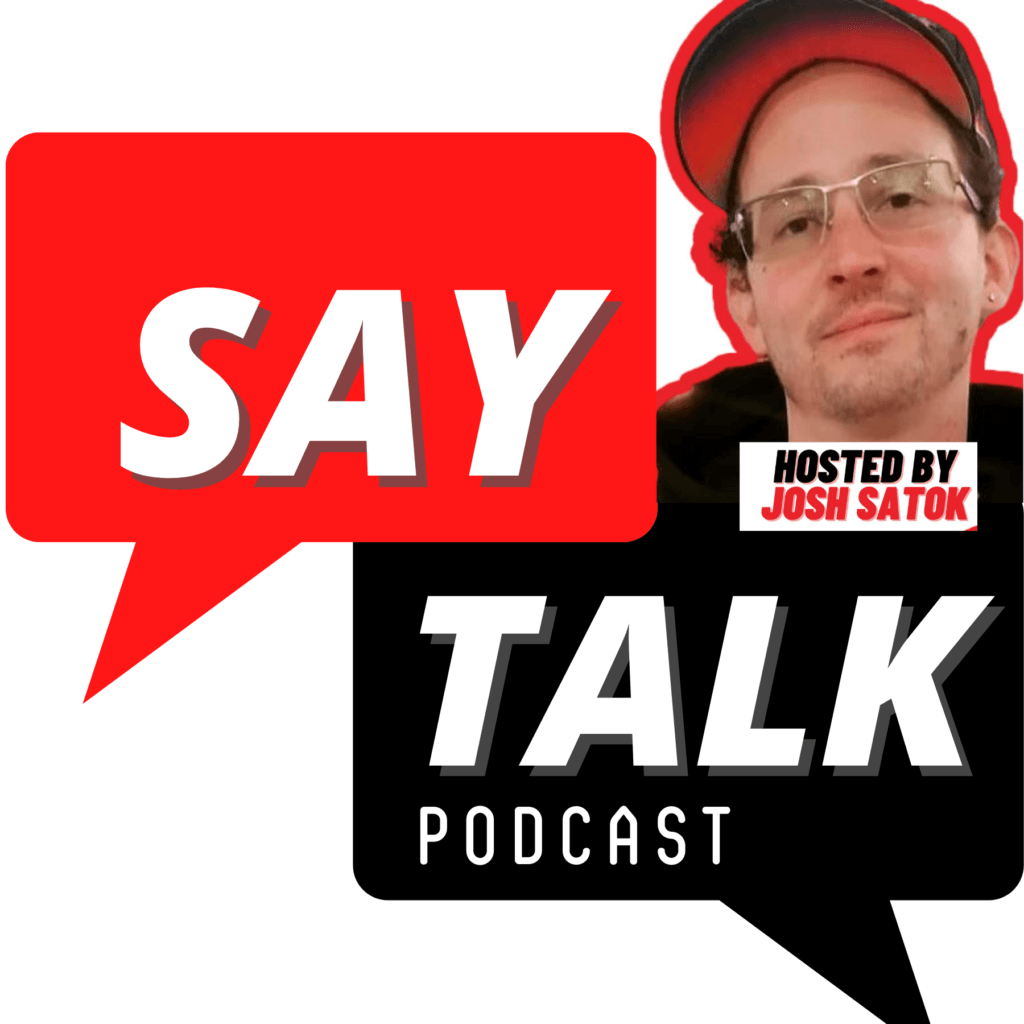 Josh Saytok Say Talk Podcast
✰✰✰✰✰
"Holy f**k it's raw, funny and totally off-color. Exactly how he sold it to me."

Andy Famous, The Mob's Press
LISTEN & SUBSCRIBE | SPOTIFY | YOUTUBE | LISTEN NOTES