Luenell's in town Toronto!
What are you doing this weekend? Why not get out and catch some comedy. Not just any comedian is coming to Toronto. Superstar comedian Luenell is coming to Toronto April 23rd and Ajax April 24th. Click the posters for event details.
[column size=one_half position=first ]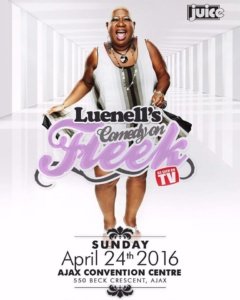 [/column][column size=one_half position=last ]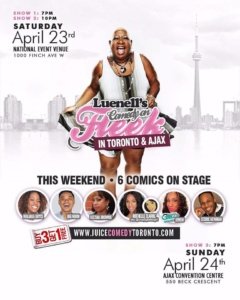 [/column]
I had the pleasure of interviewing Luenell a couple of weeks ago. From watching her make me laugh on BET to laughing on the phone in my home, I finally came full circle by talking to her.
Here's what she had to say about hecklers.
How do you deal with hecklers during your set (if people even attempt this during your set)?
There's different types of hecklers. There's hecklers who do it because you suck and they want you to get off stage. But my hecklers…. First off, nobody would dare heckle me because I would tear their head off and secondly, I don't give anyone a reason to heckle because I'm there to have a good time and I do good material. I get a lot of interactiveness from time to time where people would talk to me or ask me a question. People like to talk to me during my set. Back in the day, when you don't know what to do and have less experience, you may retaliate in a negative way. But now, I'll go ahead and have a conversation with that person as long as it doesn't take too long or take away for the show. A lot of the times, it can enhance the show. So I wouldn't call my hecklers "hecklers" per-say.
Read more of the interview on Mobtreal.com
For all the details about the Luenell's shows in Toronto, Ajax and Montreal, to purchase tickets or for inquiries, please visit juicecomedytoronto.com