2019 JFL42 Review: Byron Bowers
"There's a thin line that separates laughter and pain, comedy and tragedy, humour and hurt." — Erma Bombeck
Byron Bowers playfully back-peddles onto the stage with his brilliant smile.  He starts his set exactly the way the JFL42 Comedy Festival audience expects him to.  He drops a few quips about Toronto, does some clever audience play.  Plays some of his friendly, happy, hits.  Then takes a long pause.  A really long pause.  Looks the audience through their eyeballs, straight into their souls and makes an announcement to the effect of "Now you gon get the full Byron Bowers Experience."  Laughter ensues.  But he doesn't break his soul gaze or silence.  The laughter slants to slight nervousness.  Just as it gets too much, here comes that signature Bowers smile.  We remember that we are still, of course, at a stand-up comedy show, but the emotional temperature in the room has changed a degree or so.
Byron has everything that a good comic should have.  Timing, perfect delivery, smart jokes, eloquence, thoughtfulness, mindfulness, the astute ability to meet audiences where they are, but then taking them into his world, on his journey.  As he calls it, "the world according to Byron."  Why this?  Because he's not satisfied being a good comic.  He's fixing to be a great one.
He has us now, in the palm of his hand.  Somehow, we have become a captive audience.  Now that we are starting to see that we are not at BET Comic View.  This is not late night talk TV.  This is not Comedy Central.  This… is something else.  He knows it.  He's just waiting for us to catch up.  He decides we're too far behind, so he makes a bold move to whip our emotions into a frenzy by notifying us that his father passed literally two weeks ago, and he was there, holding him as "his soul left his body."  Then silence.  Long pause.  More soul staring.  The audience starts fidgeting in their seats.  "Is this guy really gonna talk about recent parental death at a stand-up comedy show, forcing us all to reflect on our parents, whether living or dead?"
He gives us a look like, "Oh yeah, I am.  I'm gonna dig deep into it.  We are gonna face this shit together.  We can all relate.  We all need therapy.  Let's do this communally."  It got dark in there.  As he continued on, he delved into topics like Mental Health, racism, suicide, and other things that aren't exactly "kosher" at the Laugh Factory.  The audience starts to see it.  This is it.  We are balls deep in the Byron Bowers Experience…. and it's ok.
I found myself laughing out loud to Byron's clever and most notably, brave material.  It felt like a mature, hilarious, cathartic discussion about the crappy things about being human that everyone experiences but don't want to ever talk about.  He spoke about societal stigmas about mental health.  How we are encouraged to be happy at all costs, but never allowed to be sad.  He spoke about taking timeout from the stresses of the world, acknowledge that we are sad, and taking our personal time to accept that so that it doesn't become something huge and ugly and unchecked.  He spoke about his dad's death as a beautiful thing, as now that he has passed, he is cured of the Schizophrenia that ailed him in his final years of life.
I got a chance to speak with Byron after the show.  He told me that he didn't speak about these things just to differentiate himself from other standup comedians.  He says he does it to help people… and himself, in his way, to face the things that we all go through and see that are horrible.  Once you see and go through certain things, you can't un-see them.  We walk with them.  But we keep them inside.  If we can talk about them, find the beauty in them, and even laugh about them… collectively, then, he believes, we gon' be alright.  I'm inclined to believe him.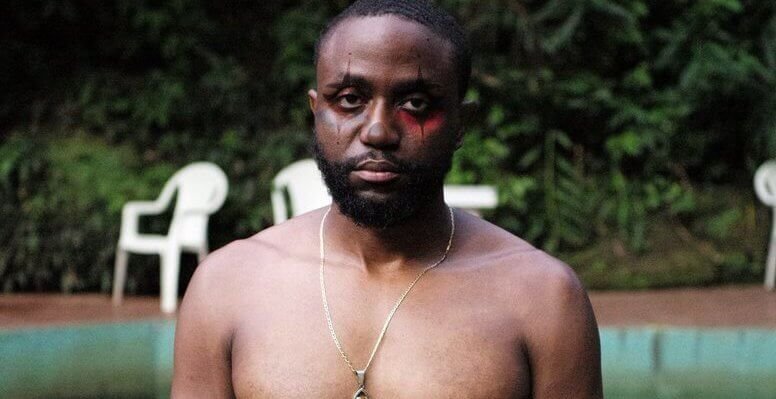 As we were chatting, a member of the audience came up to him, shook his hand and said graciously, "Thank you for the journey.  I teared up a couple times, but I laughed so hard.  Thank you… so much."
Being a stand-up comedian, one has unfettered access to an audience's psyches for about an hour or more.  You can simply tickle it, by hitting predictable buttons over and over again as others have done before you and will do after.  Or you can play it like a well tuned instrument.  It is the difference between a four-year-old banging on a piano, and a virtuoso sitting down in front of that very same instrument and changing the atmosphere as he manipulates the instrument in ways that may have been foreign until this moment.  This is the Byron Bowers Experience.  It is yet another evolution in comedy, one that not just acknowledges, but also welcomes it's brother, tragedy, into the room, so we can all be there together… acknowledging all parts of being human, good and bad, talking about it, facing it, and being okay.
Trust me, in the years to come, you will be hearing more from Byron Bowers.  He is featured in Shia LaBeouf's new film Honey Boy that is making noise around the world.  He is working on a stand-up special that will be unlike those you've seen anywhere before.  Remember the name.  This cat has one foot in the future.
To read more reviews on TIFF, and JFL42 from Mobster, Curtis Morgan, just click here.