The Den Toronto
Have you ever wanted to make your own jewellery? Maybe you have a wedding coming up and you're looking for a place to buy your wedding bands? Or maybe just looking for that perfect, unique gift? If you enjoy working with your hands and learning new skills, you've found it all at The Den Toronto.
The Den Toronto has workshops for all levels and all kinds of events. Parties, team workshops, girls night out… you name it, they have a workshop for it. The owner Kristin Calkins is the brains and beauty behind this operation. She has taken her passion for goldsmithing and turned it into a unique experience that everyone can do and clearly loves.
Kristin was one of the first peeps I met in Toronto. We both hit it off as strong independent entrepreneurs. It was perfect timing because my friends we're getting married and I wanted to show them how special they were to me. This was the perfect gift idea!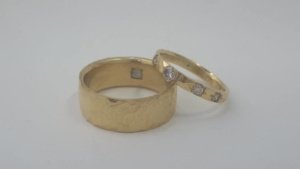 Their wedding band experience was so much more than just going to a store and buying rings. It was making something for the person you love. It was connecting with each other, spending time with one another and having fun doing something that is usually very stressful.
Check out the video above to really get the experience of what it's like to be a customer of the Den Toronto. Kristin is with you every step of the way to make sure you feel taking care of and that your rings are exactly what you wanted. No matter what your level of experience or what kind of jewellery you want to k=make, The Den will make it happen with easy, understanding, safety and fun.
Go to The Den Toronto to find out more about their workshops, techniques and book yourself an experience today!