'Head Above Tide,' the New Album by Jason Vitelli
On January 17th, art-rocker Jason Vitelli will release his third full-length album, Head Above Tide. Born and raised in Long Island, the Elvis Costello-inspired multi-instrumentalist attended Birmingham University for Music Composition and studied film scoring at NYU, later working as a composer for various projects. He eventually decided to shift gears and focus on writing and performing his own music, producing and releasing his very first album, No Photographs, in 2009. The singer's next album, Confluence, broadened his musical scope and was largely recorded direct-to-stereo, encouraging his musicians to react to each other live in rich and organic ways.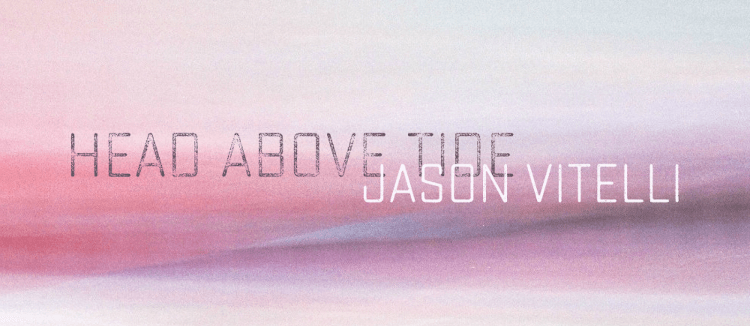 Vitelli, who plays several instruments on these 16 tracks, describes Head Above Tide as being centered on facing and defying adversity, pulling from real-life conflicts and famous literature to craft his lyrics. With references to everything from the Second Sudanese Civil War to the novel Sophie's Choice, Vitelli's lyrical palette is rather broad, and the artist has surrounded himself with talented musicians to help craft a layered and rewarding record around his words.
Whether it's the raunchy guitar on "Trees" or the upbeat piano groove of "Pinwheel," Head Above Tide boasts impressive work from Vitelli and his backing band; percussionist Yorgos Maniatis is particularly noteworthy, his understated but elaborate drumming serving as the album's backbone along with Michael O'Brien's bass. The record is filled with warm, jazzy flourishes, including Vitelli's warm alto sax on tracks like Autumn Hymn. Backing vocalists Lisa Trenary and Cherette give plenty of life to many of these songs, their full-bodied gospel-tinged harmonies elevating and enriching "Fault Lines" and "Welcome to My Life, Healing" among others. The instrumental track "(descension)" is a surprising highlight given that it's only a minute long, but it quickly emphasizes the album's clean and refined sound engineering.
Head Above Tide isn't a short record, but it's tightly-weaved and breezes by pretty fast, so be on the lookout for the album when it drops this January. In the meantime, you can listen to Jason Vitelli's other work on Bandcamp, SoundCloud and Spotify.
[youtube https://www.youtube.com/watch?v=SyADctbcc8U&w=560&h=315]
For more info on Vitelli and his music, feel free to visit his website and social media pages:
Jason Vitelli – vocals, keyboards, rhythm/lead guitars, alto sax, bass guitar and sampler
Michael O'Brien – bass guitar
Yorgos Maniatis – drums, shaker and pandeiro
Max Castro – congas
Lisa Trenary – backup vocals
Cherette White – backup vocals
Dave Ramsay – lead guitar
Richard Padrón – lead guitar