Eric Alper: "Canada's Leading Voice In Rock N' Roll Media
Rising above the noise, Eric Alper is one of the leading voices in the media for Canadian music. After being involved with the music industry for the last 25 years, Alper hosts one of the most popular music talk shows on Channel 167 SiriusXM radio. He's also a major music publicist who has worked with clients such as Bob Geldof, Judy Collins, Randy Bachman, Ringo Starr, Slash, The Wiggles, The Smashing Pumpkins, The Cult, Sinead O'Connor, Bush and countless others. As the Director of Media Relations and Label Relations for eOne Music Canada for 18 years, he has been named the Billboard Magazine, Paste Magazine, and The National Post's best on social media with over a million followers.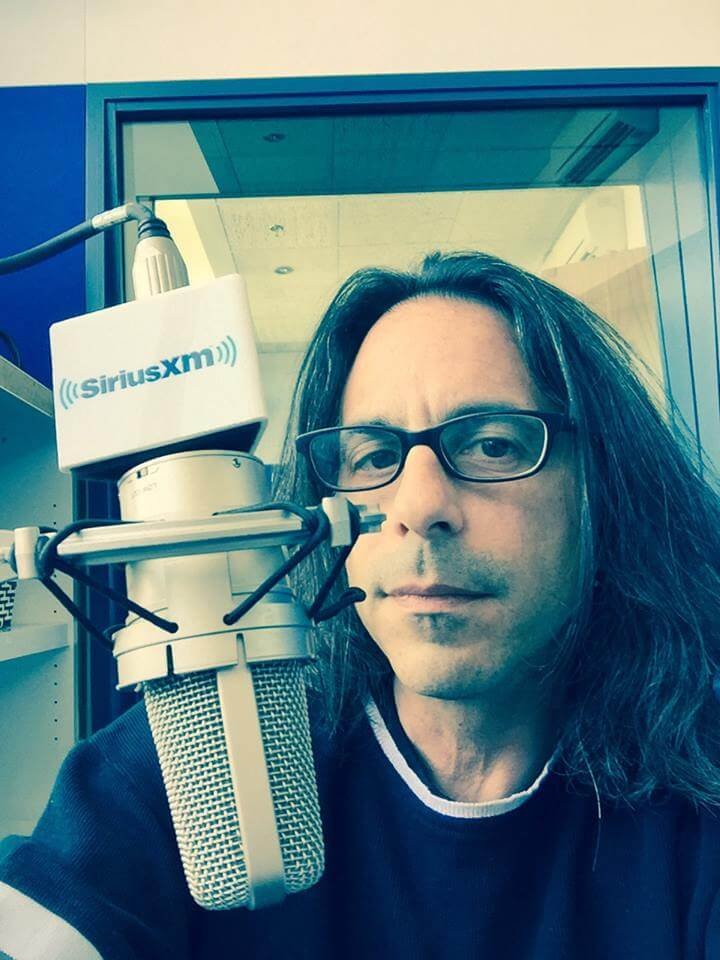 You can hear Eric talk to the most illuminated rock celebrities and legends on @ThatEricAlper on Saturdays 12pm, 4pm and Sunday 6am, Noon, and 7pm EST across North America. It's one of the most listened to shows on the network and after speaking to Eric is was easy to see why.
An avalanche of information with a true recognition for music artists, Eric spoke about his experiences with his clients and those in the music industry. He was candid, genuine and authentic. Aside from his knowledge, he displayed a heartfelt sensitivity and appreciation for those who have been in the music industry and have become icons and legends and still just love to play music…..Eric displayed an innocent yet excited enthusiasm for these artists and for music in general.
How did you first become interested in the music business and what made you stick with it for the past 25 years?
My grandfather has a bar in Toronto called "Grossman's Tavern", and it's still standing. It started back in the late 1940's and at the time it was one of the first bars in Canada to not just have live music but to mix alcohol with live music. Toronto thought that mixing those two would cause the entire city and country to go to hell. They were right. That to be what happened. I grew up with music in my life and not necessarily from anybody that could play an instrument, but seeing music as a way of being a large part of the community, and having part of the culture. My grandfather and all of his brothers and sisters worked at the bar. So for them it was the idea that family could stay together and work together. It was in Toronto which is known around the world as a multicultural city. Part of that is because of the venues and places like "Grossman's Tavern." It's where Rush used to play before they were big. Amanda Marshall, Rough Trade, a whole bunch of artists that were in the blues and jazz scene used to stop at "Grossman's Tavern" on the way to their tours. For me, it's where I got my first taste of music, my love of blues and folk music was at that bar. So, I knew I wanted to be in the music industry, but I also knew that I couldn't play an instrument whatsoever, and I still can't. I loved the stories that I would hear and read in Billboard Magazine when I was 12. I got a subscription to it for my birthday. That's what I wanted. These people were my version of science fiction heroes. They were people that I would have no chance of ever seeing or meeting. Also, people working behind the scenes, reading about them in Billboard…I had no idea of how anybody could ever enter this world. Of course, I found out I could get involved in music in my own city. Being in Toronto gave me the biggest city in Canada and the fourth biggest music market in North America. So, I went to university and worked at a radio station, started a PR company the day after I graduated and have not done anything in my life except for public relations in the music industry.
You've worked with an abundance of superstars. Who in your opinion what is the biggest celebrity you ever worked with?
I've worked with Ringo Starr. He was in a band called The Beatles that a couple of people might have heard about. They had a couple of albums and they did OK for themselves. I ended up working five albums for him including a couple of live albums and helped run a couple of worldwide press conferences for The Ringo Starr All-Star Band. So, he was great. Sinead O'Connor was amazing to deal with although I was really terrified the night before working with her. Jerry Lee Lewis was somebody that I long admired and loved. Actually "Great Balls of Fire" was the first single I ever bought with my own money. Working his "Last Man Standing " album and the live album that kind of brought him a little bit of a comeback was amazing. A lot of people that I grew up listening to, people like Kurt Smith from "Tears for Fears" and Joan Jett…they are artists that I still look at to this day thinking I can't believe how many countless hours I've listened to them growing up. I feel so privileged to have been able to work with them.
From my own experience doing that, it's the coolest thing ever.
Yeah. It's wild. I've had it both ways where I was part of a worldwide chain with an artist and helped sell millions of albums around the world. That's amazing because that stuff really shouldn't happen. The amount of people that have to do everything correctly all at the same time or when their time is called upon to make something a success, it's amazing anything becomes a hit. There are so many things that can go wrong. And forget about the fact people have their own personal taste about music. But the best artists that I love working with are those whose best hits are a little bit behind us because they realize that they don't really have 150 men around them or the world at their feet or the ability to have a warm can of Coke at their disposal whenever they ask for it. These are people who are still in it because they love the music. They love to still perform. Maybe they're not playing for 30,000 people in a giant stadium, maybe they're only playing to 800 people or 100 for the night or over the weekend, but those are the people I love to work with. They have amazing stories, but they're so blessed to have people like you and I working on their team. Not like it's an ego thing but I think they are just so thrilled having somebody who still believes in them. It kind of makes it a little bit more of a human experience then maybe being a part of 700 hundred people and you're just another cog in the wheel.
I completely agree with you.
It's fun too because as a publicist you know we get to pitch people who are really cool. I work with at least a dozen artists who are fairly unknown. They're just starting up. Maybe they don't have 1 million streams on Spotify. Maybe they will get them maybe they won't, but I will do my darndest to help them. But then there are also people who were maybe on their 10th album and have become legendary. The ability to work with journalists and people in the media and radio hosts, they get so enthused to talk with them. Maybe they never had a chance to talk to them when they were massive. But that level of acknowledgment and enthusiasm that the media has for these people makes me feel great too. Hey, this person is amazing. I get feedback saying that my artist was really great to talk to and you really feel so good. And you agree with them. Isn't it amazing that these people are still around? We shouldn't take these people for granted because having a music career is really tough. It's almost like getting signed is really easy but keeping that record label is tough. The ability to be here 20 years later, I have a 25 year career, kudos to them for doing it. 
I can't even agree with you enough!
There are times as a publicist that you can get to change the perception of how people think about them. We're not fooling anybody, I don't want to lie. I don't want to make the media an adversary or an enemy because they're not. But there comes a point in time where after you've been around for so long you kind of get a little bit more respect, and you should be deserving that just like anybody else. It's not when you start to get the lifetime achievement award when you're 80….. maybe if it starts when you to get this in your 40s and 50s because that's a really great time I think because the pressure is off. You as an artist are not expected to go around the world in record speed and I think that they love that.
You've already proven yourself.
Yeah. Absolutely.
www.ThatEricAlper.com
Eric@ThatEricAlper.com
www.Twitter.com/ThatEricAlper
www.Facebook.com/EricAlperPR
www.Instagram.com/ThatEricAlper
https://www.youtube.com/channel/UCM-eWvOyTegxaI5wo96p06w
Interview by Eileen Shapiro