Concert Review: Kathy Griffin: Laugh Your Head Off in Toronto on May 25, 2018
So, I got lucky (or did I?).  I say that because the good news was that my cousin couldn't go to a show with her husband and friends on account of a new baby and they were offering me her ticket.  The bad news (for me), was that ticket was for the one, and only, Kathy Griffin.  The other three gents I was going with, were already big fans (two of which were gay — one of her key demographics on account of her former "fag hag" status with one of the most famous homosexuals in the world, Anderson Cooper).  I was the lone skeptic in the group, and maybe in the building.  I was open though.  I was looking to be converted.  I mean, I'd seen her antics on various TV shows and the CNN New Year's Eve specials over the years — all of which annoyed me every time she entered the frame with her uber-bitch obnoxiousness.  See, I'm not fond of people who's careers are made by being mean to others or just yelling outrageous things at the world.  Don't get me wrong, I love comedians.  Stand-up is one of my favourite forms of entertainment, but certain styles don't gel with my psyche.  Hers is one.
The show starts promptly at 8.  No opener.  She runs onto the stage wearing the same (infamous?) blue dress she was wearing while she decided to torch her career by holding a bloody severed head of the current President of the United States in the picture seen around the world.  She seemed proud of that.  And therein set the tone for the night:  pure and utter defiance in the face of authority.  Bold?  Courageous?  Yes, all of that.  Empowering?  For sure, but in pure Kathy Griffin style, she playfully danced between this noble notion, and a temperamental adolescent with ADHD who wanted to show her punishers that they were the one's who should have been reprimanded.  Let me explain.
Griffin had some very funny moments.  She celebrated her fans, gay and straight, who sent her letters of support through her very public ordeal.  She named names of the people/celebrities that stood by her through the ordeal and those who didn't (Anderson Cooper, et al.).  She cleverly, slowly, dispersed details of the scandal throughout her set interspersing it with some pretty decent material so as to keep us hanging on for juicy gossip.  She knows how to keep an audience, although some of the best comics don't have to use gimmicks.  She definitely kept the audience… for 3 whole hours.  Yes, you read that right.  Kathy Griffin effortlessly flew through a 3 hour set.  Effortlessly for her.  For the audience, time did pass quickly, but none the less, it was long, and about a 3rd of the material could have easily been dropped as none of it was monumental.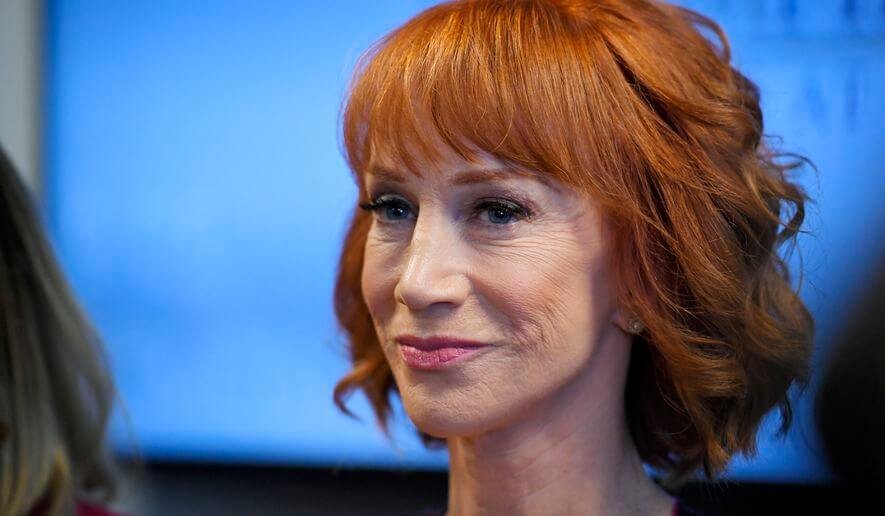 Most of the non-Presidential material, I found, was just this self pro-claimed "D-List" actress and comedian name-dropping her famous friends on us.  The stage was littered with them.  Detailed anecdotes about Billy Bush (being presumptuous), Cher, Wayne Gretzky (being less than Great), two outrageous and entertaining stories about her next door neighbours, Kim & Kanye (maybe you've heard of them), Sharon Stone (one of her besties), and the unfortunate clinger, Andy Dick.  She also ends her show with a behind the scenes account of the Mariah Carey New Years Eve fiasco.
If she wasn't talking about Trump, her material was mostly made up of personal encounters or experiences with those mentioned above.  Most stories including some about Anderson Cooper, were not flattering and probably are stories that most mentioned wouldn't want her to reveal in her act.  She swears that every story is true, and defiantly through her long set told us that she has nothing more to lose and doesn't care about revealing the dirt on these people.  It does make for an entertaining show, but more catty Fashion Police than fresh original comedy.  I assume that's what her fans want.
I did leave the show respecting her more than I did going in.  She has had a rough year and she went to the source for her healing:  her fans.  She has lost a lot in the past year, she has lost a lot of fans too, however, that show sold out.  I've heard many other dates have sold out as well.  People want to see her triumph.  In this age of #MeToo, I, too, found myself wanting to see her overcome.  She has.  If that appeals to you, as well as some celebrity dirt, get your tickets fast before they sell out.  Bring a cushion for your butt, it will be a long night.  You've been warned.